Dr. Vincent Cascino, OD
He is a Graduate of the University of Pittsburgh with a bachelor of Science degree in chemistry. He is the past-president of the Southwestern Pennsylvania Optometric Society and was voted "Simply the Best" eye doctor by the Tribune-Democrat. Dr. Cascino has an extensive experience in contact lens fitting and LASIK and cataract surgery management.
He is married to Joanne and has three daughters, Lauren, Leann and Jaclyn. His hobbies are golf and playing with his three grandchildren.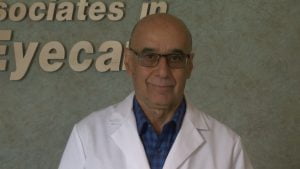 Dr. Joseph S. Ieni, OD
Dr. Joseph S. Ieni was born and raised in Johnstown, PA.
He earned a Bachelor of Science degree from the University of Pittsburgh and a doctorate from the Pennsylvania College of Optometry in Philadelphia. He served a clinical rotation at the Albert Einstein Rehabilitation Hospital. Dr. Ieni has enjoyed helping patients with their visual and eye health care needs in Johnstown since 1978.
Dr. Ieni resides in Richland Township with his wife, Carol. They have three children: Heather, Michelle, and Melanie; and six grandchildren. They are members of St. Benedict's Church.
Dr. Matthew Sheridan, OD
Dr. Sheridan graduated cum laude from the University of Pittsburgh at Johnstown in 2007. Then went on to the Pennsylvania College of Optometry at Salus University and graduated in 2011. He has been practicing for 7 years. During his career he won the southwestern Pennsylvania 2012 young optometrist of the year and served as the president of SWOS in 2015-16.
He and his wife Leann have 2 daughters and a son and they live in Richland. Dr. Sheridan is a member St Clements parish, Westwood Kiwanis club and Young professionals of the Alleghenies. He enjoys running, Notre Dame Football and spending time with his family.
Dr. Gretta G. Brown, OD
Dr. Brown is a 2018 graduate of the Accelerated Scholars Program at the Pennsylvania College of Optometry at Salus University.  Prior to optometry school, she graduated summa cum laude from Saint Francis University in 2015 with a Bachelor of Science degree in biology with minors in accounting, business administration, and education.  She is a member of the Beta Sigma Kappa, an International Optometric Honor Society.  She graduated with honors from all of her clinical rotations including contact lens, low vision rehabilitation, primary care, and hospital/ocular disease.  Dr. Brown and her husband, Caleb, are from the Hollidaysburg area and now reside in Johnstown. She is excited to be back in central Pennsylvania and to provide optimal eye care.